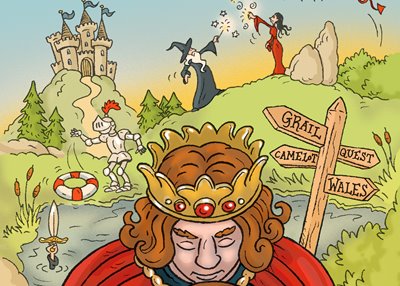 The Sword in the Stone
Sat, 10th August 2019 @ 5:00 pm

-

8:00 pm
Wizards, Magic Swords, Knights in Shining Armour, and the Throne of England. There are fights to be fought, Knights to be knighted, and quests to be… quested. See for yourself exactly how Arthur became the most renowned King of England in this madcap, hilarious retelling of the legendary English story of The Sword in the Stone.
Following their phenomenal response from last year's The Three Musketeers, IKP are back with another unique, tongue-in-cheek adaptation of a classic story. Excellent fun for all ages – with slapstick, physical humour, fast-paced multi-rolling, and a smattering of playful innuendo for the grown-ups, IKP's The Sword in the Stone is an unmissable Outdoor Theatre treat thi Summer.
Picnics welcome. There is no seating provided, so please bring something to sit on. This production is designed to be performed in the open-air and will continue in all safe weathers.
Gates open at 4pm for picnics. Refreshments available.
Box office: 01242 572573 or www.everymantheatre.org.uk – £14 / £11 / £45 Family