Coach Party Bookings & Group Visits
We welcome coach parties and have a free coach parking area. Coaches and parties of more than 20 must book in advance, and guided tours can also be arranged. Please call our office on 01844 339254 or email coachbookings@waterperrygardens.co.uk for information and bookings.
We welcome visits from gardening societies, cultural, leisure, business and other groups and we have meeting facilities on site which are available for hire. Special packages can be organised, including talks by Waterperry experts or guided tours of the garden. We're happy to consider any ideas, so please give us a call.
Pre-booking allows us to limit the number of coaches visiting each day, ensuring your party does not have to compete with hordes of other people in our gardens and at other facilities.
Wherever possible we meet and greet all coaches and offer incentives for drivers, including free access to our ornamental gardens.
If you would like us to organise a special event for your group please contact us as far in advance as possible.
All inclusive packages including a range of meal choices are also available. Please e-mail coachbookings@waterperrygardens.co.uk or phone us on 01844 337266.
Fresco Tours Available Every Wednesday And Friday At 2pm £5 Per Person. Numbers Are Limited, Booking Essential.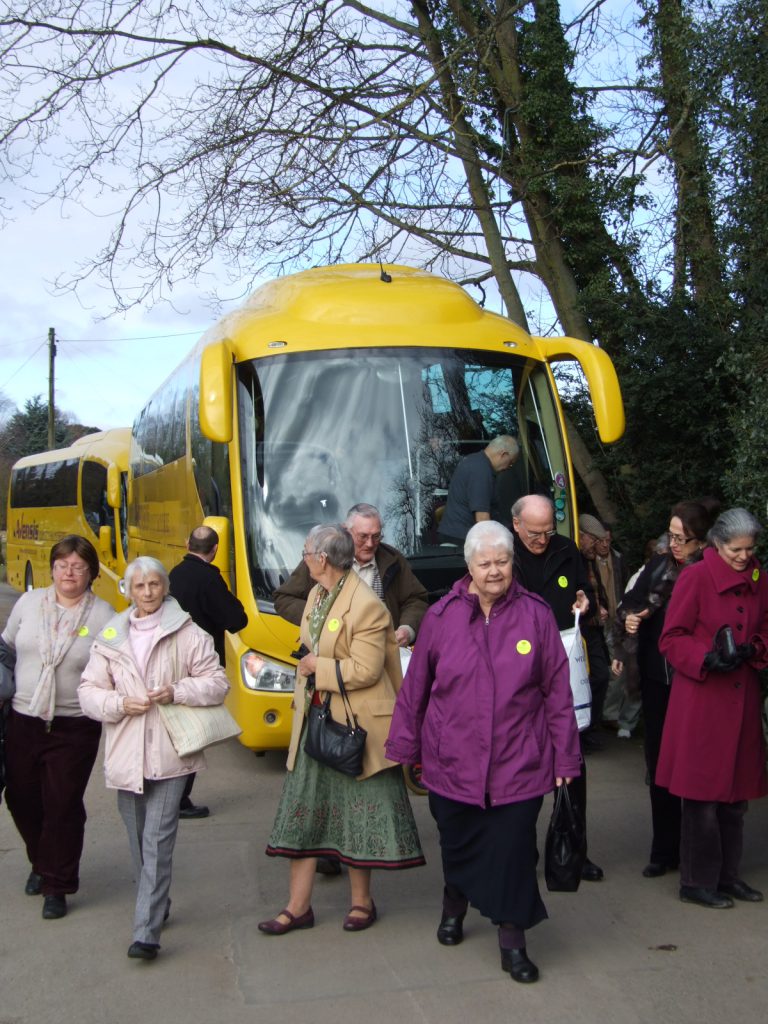 Party Entrance Rates
Parties over 20 booked in advance*:
February – 31st October £9.00
November – January £7.00
*Parties under 20 will be charged at the applicable full rate.
Guided Tours
Guided tours of the gardens Monday-Friday by arrangement (Garden entrance plus additional fee for tour).
£7.00 per person for groups of over 20
£100.00 minimum charge for groups of up to 20
Refreshments
Our delightful tea shop serves morning coffee, light lunches and afternoon teas. The food is freshly prepared each day from fresh ingredients, and we're also licensed to sell wine and beer. Lunches are from 12pm, with all food selected from our counters. It's not necessary to book coach party lunches in advance, however to guarantee a particular meal being available booking is advisable. Coach coffee stops are also available, these can be booked in advance, but pre-booking isn't necessary.
Parking/Meet and Greet
Whenever possible a member of staff will meet your coach at the entrance. All we ask is that you call us on 07749 784459 ten minutes before you arrive so that we can be ready for you. We will direct your coach driver to a parking space. Tickets and information will then be given to your party on the coach and our staff will be available to make sure that your visit goes smoothly.
Disabled Facilities
All buildings at Waterperry are accessible by wheelchair users and those with limited mobility, and we have disabled toilets and parking places. Wheelchairs are available on site, but you may want to call and book one if you're planning to visit during traditionally busy times.
The gardens are mainly flat with good accessibility. Most paths are gravel surfaced and this may make wheelchair pushing hard in some areas. If you have any concerns please call us beforehand and we'll do our best to accommodate any specific needs.
Booking Confirmation

Please note that your booking is not confirmed until we have contacted you personally by e-mail, telephone or in writing.
We look forward to welcoming you to Waterperry Gardens and are confident you'll enjoy your visit.