Waterperry House owes its graceful Queen Anne frontage to Sir John Curson, who had it rebuilt in 1713. The Henleys were the last family to own the manor house in the 20th century. In 1925 the whole estate was sold to Oxford University, Magdalen College, and eventually let it in 1932 to Miss Beatrix Havergal, who finally bought the estate in 1948. Beatrix Havergal established the famous Waterperry School of Horticulture and laid the foundation of the gardens we see today. When she retired in 1971, and the Horticulture School was closed, the property was acquired by The School of Philosophy and Economic Science who run residential courses for its students of philosophy and economics.
Parts of the house date to Tudor times although archaeologists have found pottery, fragments of which are to be seen in the Museum of Rural Life, dating from Roman times. The house contains contemporary frescoes which are thought to be the largest single work of its kind in this country in over 500 years.
The House and frescoes may be visited on a limited basis. For more information on tours contact Simon Buchanan on 07780 830485.
For room hire enquiries please contact Jennie Buchanan on 07909964614 or by email on info@waterperryhouse.org.uk with preferred dates, times and numbers of people.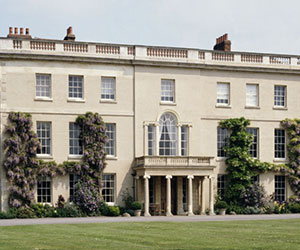 The huge frescoes inside the house are unexpected and amazing, stretching over three floors of the building.
Please purchase tickets from the Garden Shop located opposite the main car park for the guided tour which takes about 3/4 of an hour.