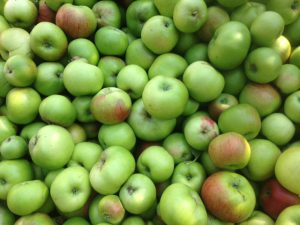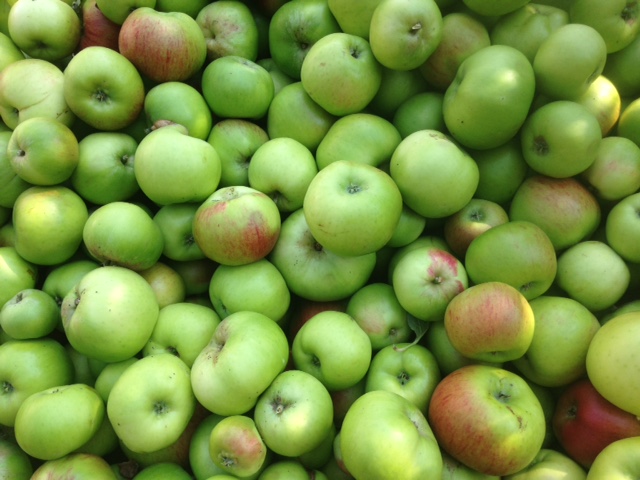 From Waterperry's Orchards
Here at Waterperry you'll find a wonderful range of fruit – all grown in our own orchards.
65 varieties of apple are grown here although only about 25 of these are available commercially.  The others are being trialled for juice, or preserved to ensure our heritage varieties don't die out.
Picking begins mid August when Discovery and Arthur Turner become available, and goes right through to early November with the final crops of Crispin and Sturmer.
Don't forget to visit us for Apple Weekend when we celebrate the new season – and the English apple in a weekend of fun, games and advice.
We also grow plums, greengages and pears, including unusual varieties like Beurre Hardy, Gorham and Glou Morceau.
Pop into our garden shop to discover what's available in season, and why not pick up a jar of honey produced by Waterperry bees while you're here?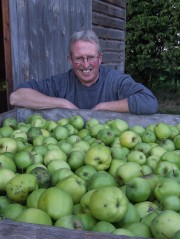 Apple Juice And Cider
Waterperry apple juice is quite simply delicious.
Chris has just won two great taste awards for two of the named varieties in 2019. We all have our personal favourites. You may have to try them all to find yours.
With nothing but vitamin C added, you know you're getting a healthy drink with our apple juice – not just for you – but also for the environment.  Our apple juice is low in food miles because the fruit has been grown, picked, pressed and bottled in our 5 acres of orchards and fruit sheds.
We press up to 22 different varieties of apple, depending on the season, in our traditional cider press.  The apple juice is then bottled and pasteurised on site, then kept until needed.
So for a drink that's good for you – and the environment – think Waterperry Apple Juice.
And for a drink that's not quite so good for you – but can make you feel very happy – think Waterperry Cider!