Educational Donations
Mary Spiller Education Bursary
In the spirit of the educational legacy left by the former horticultural managers, Beatrice Havergal and Mary Spiller, horticultural education continues in the form of apprenticeships and horticultural training under the guidance of Rob Jacobs, horticultural manager.
To this end, the Mary Spiller Education Bursary has been set up.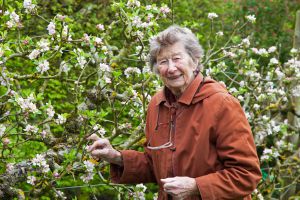 The Bursary supports horticultural education in memory of Mary Spiller, Horticultural Manager and Garden Consultant at Waterperry Gardens, 1971-2013, whose work inspired many as their mentor and teacher.
Mary was a war time volunteer for a year, then a student for 3 years from 1942. She returned in 1963 as a lecturer before becoming Horticultural Manager. She semi-retired from managing in 1990 and became garden consultant until her retirement in 2013.
The chief aim of the bursary fund is to support the education of apprentices at Waterperry Gardens.
All who knew Mary during her long association with the gardens appreciated her enthusiasm and knowledge.
Donations to the "Mary Spiller Education Bursary" fund can either be made by post c/o Waterperry Gardens Ltd or by contacting the Trustees by email at Mary.Spiller.EB@gmail.com
If you would like to apply for a Bursary please contact the Trustees by email at Mary.Spiller.EB@gmail.com
The Bursary is a Charitable Trust, with Trustees and the governance of which is directed by the Charity Commission.